---
Kian Lee TAN
Provost's Chair Professor

School of Computing
Department of Computing Science
tankl@comp.nus.edu.sg
COM1-03-23
651 62862

Other Projects
Personal Website

Peer-to-Peer-based Cloud Data Management

Objective
Integration of cloud computing, database and P2P technologies to exploit the advantages of P2P architecture on a cluster of nodes over MapReduce framework which include: more robust query processing mechanisms as nodes can communicate with one another; removal of single point-of-failure in the master/slave architecture of MapReduce; and facilitation of elastic design as peers can be readily added and removed.

Results
We have met the objectives of this project through the development of 1) BestPeer++, a data management system with distributed access control, multiple types of indexes, and pay-as-you-go query processing for delivering elastic data sharing services in the cloud, and instances organised as a structured P2P overlay network; and 2) the Katana framework, a novel P2P-based generalised data processing framework that can be deployed on many of the currently know structured P2P overlays that provides a programming model in which processing logic may be implicitly distributed with universality and expressiveness, and where kata and ana functions can be executed independently from each other.

Powered by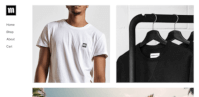 Create your own unique website with customizable templates.